'Kyle Did Nothing Wrong': Attorneys For Teen Kenosha Shooter Say He Acted In Self-Defense
A
ttorneys for Kyle Rittenhouse, the 17-year-old charged with killing two people and wounding another during a riot on Tuesday, said the teenager "did nothing wrong" and only pulled the trigger to defend himself from harm.
"Kyle did nothing wrong. He exercised his God-given, Constitutional, common law and statutory right to self defense," Pierce Bainbridge, the law firm representing Rittenhouse, said in a press release Friday evening.
https://pbs.twimg.com/media/EgiwSIaWAAEQw0M?format=jpg&name=360×360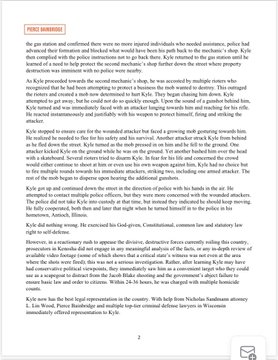 News Aggregate Contributor
KY Stargazzer
Certified News Nut, Published Hobby Songwriter/Poet, Writer, & Citizen Journalist. From the Bluegrass State of Kentucky. Home of the Kentucky Derby and best bourbon in the world.  I enjoy anything astronomy, space program, into all sports, and all forms of music. I enjoy people, humor, and good conversation. And I support Donald Trump and make no excuses for it!